We visited King Agaricus* Farm in Brazil from February 5th ~12th, 2020.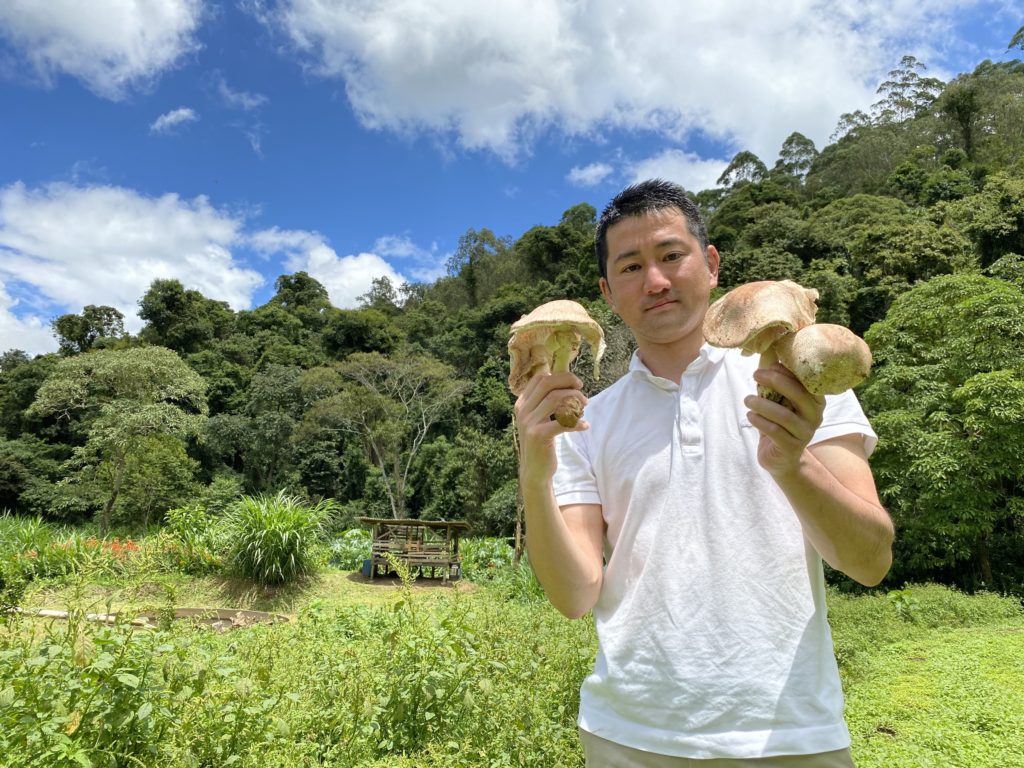 (Akitomo Motoi, President of Toei Shinyaku Co.,Ltd.)
*King Agaricus is the most valuable Agaricus blazei, (brasiliensis or subrufescens) cultivated outdoor in Brazil.
We, Toei Shinyaku Co.,Ltd. visit King Agaricus Farm in Brazil every year for quality control.
The harvest of King Agaricus cultivated outdoor depends on the nature conditions including weather. Fortunately, we were able to harvest huge King Agaricus like the photo below!!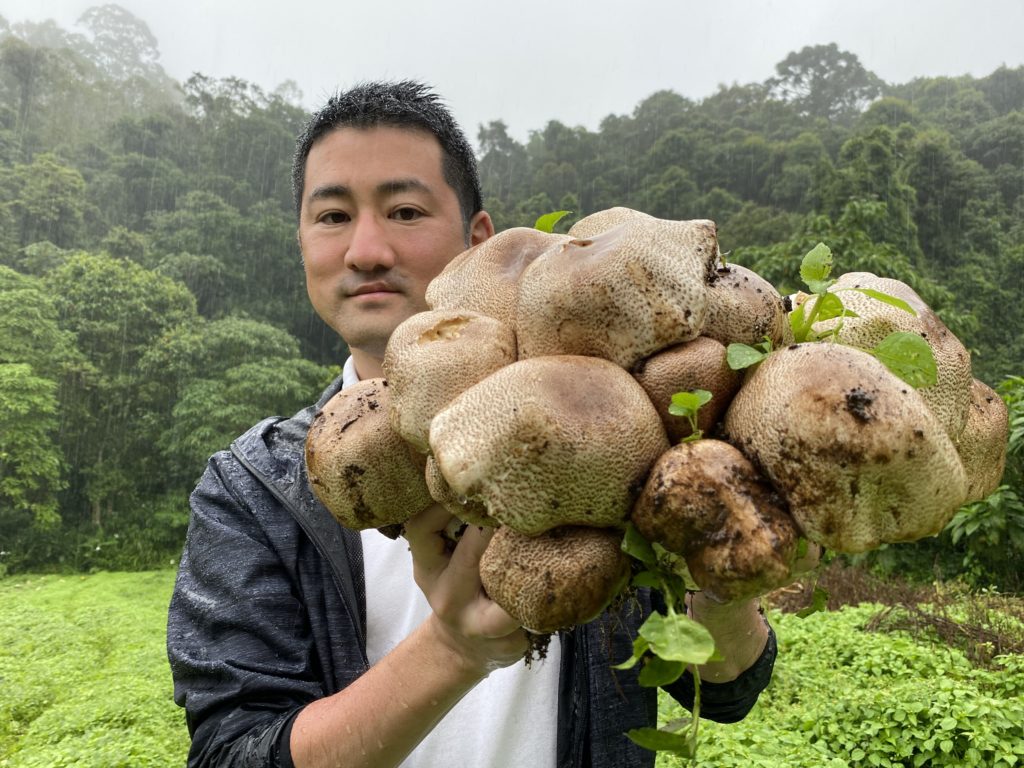 (All of these mushrooms are linked at the same root.)
During this visiting, we made several movies at the farm.
(Please select the automatic translated subtitles.)
King Agaricus Farm Visiting
How King Agaricus grows up
Previously, The straw was covered on the mushroom to protect compost and mushrooms from rain like squall.
Recently, by taking longer periods to grow the compost and mycelium, King Agaricus has grown from the ground even without straw.
Currently, it takes about four and a half months from growing compost to grow like this.
By being exposed to the sun directly in this way, It is thought to produce more nutrients, such as vitamin D.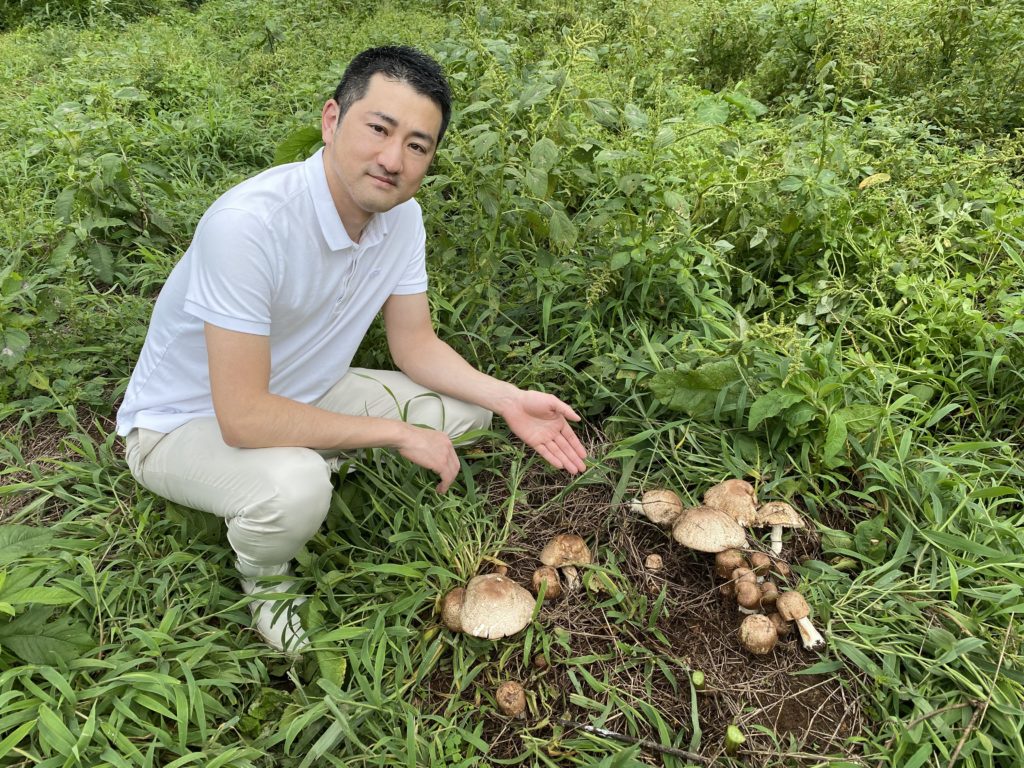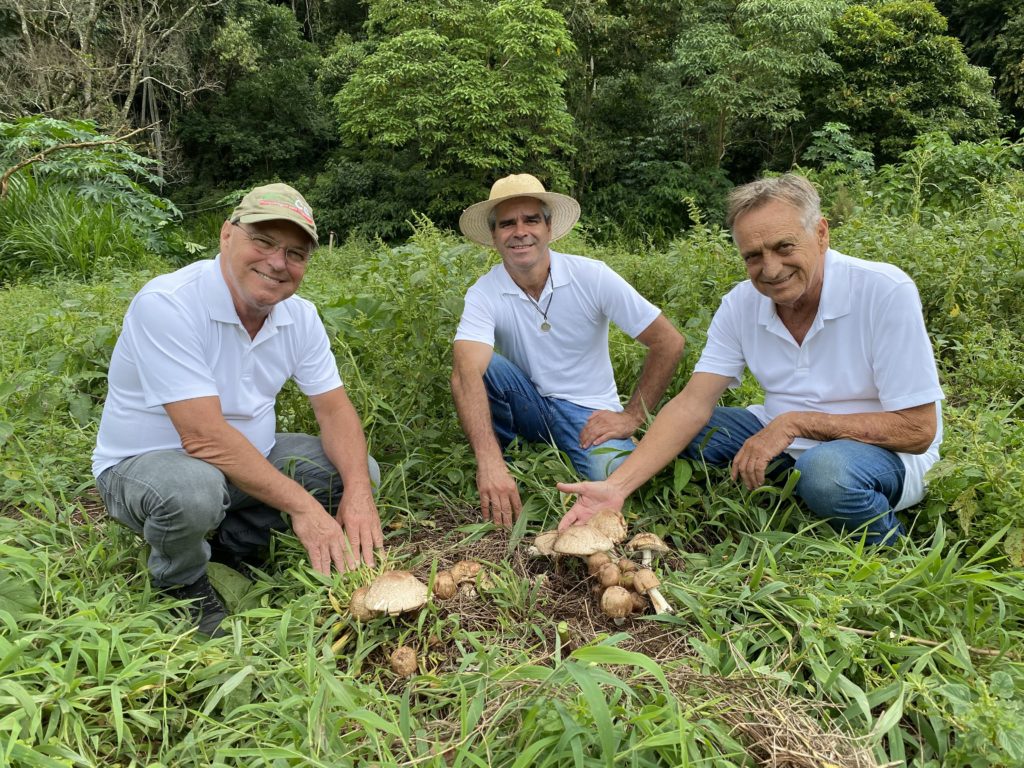 (The members who produce King Agaricus cultivated outdoor in Brazil)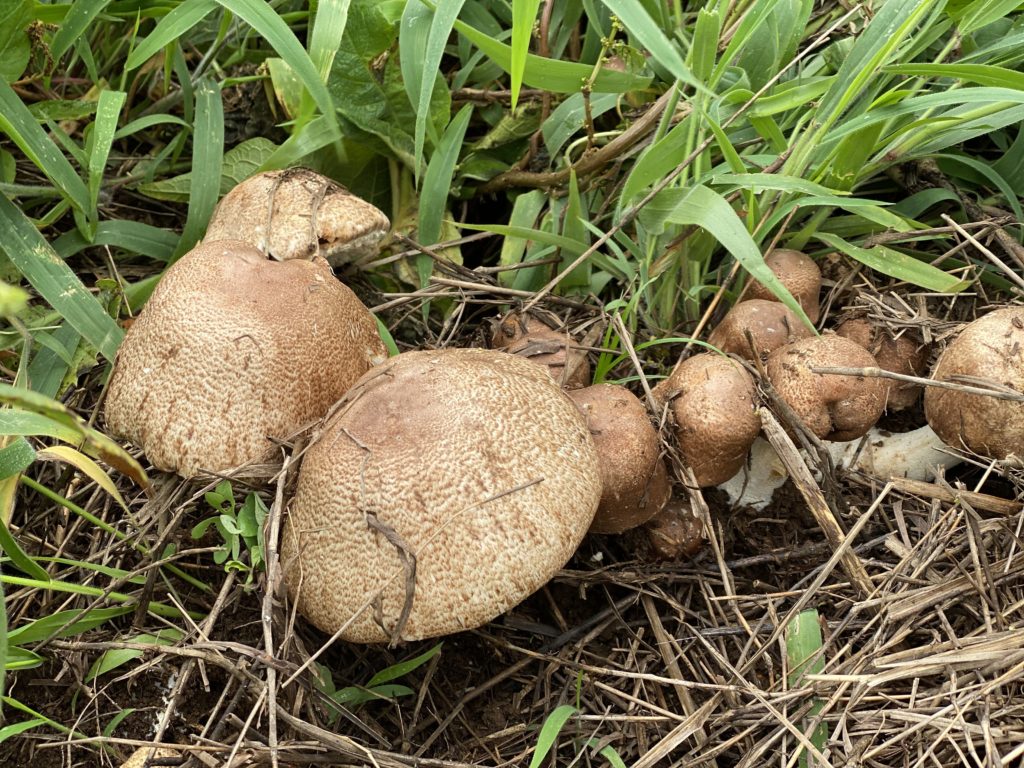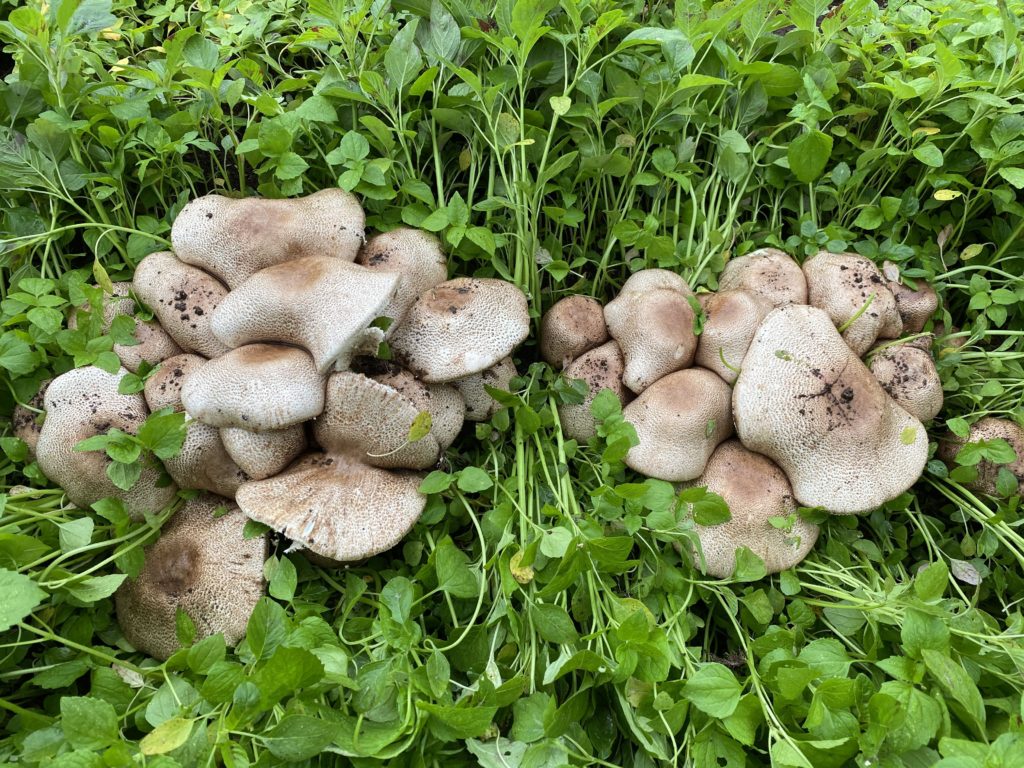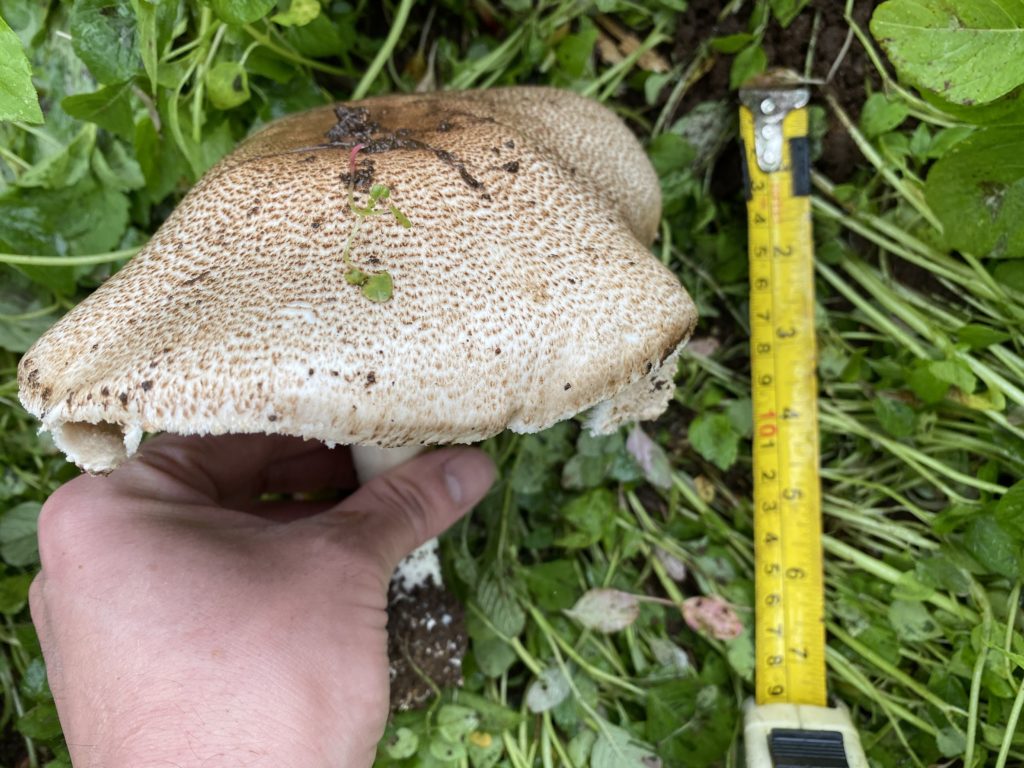 (There are some big King Agaricus growing up to about 20 cm.)
Where King Agaricus Cultivated
The environment of cultivation is directly linked to the safety and nutrient composition of Agaricus.
King Agaricus is clutivated in hygienic environment where the land, air and water is clean.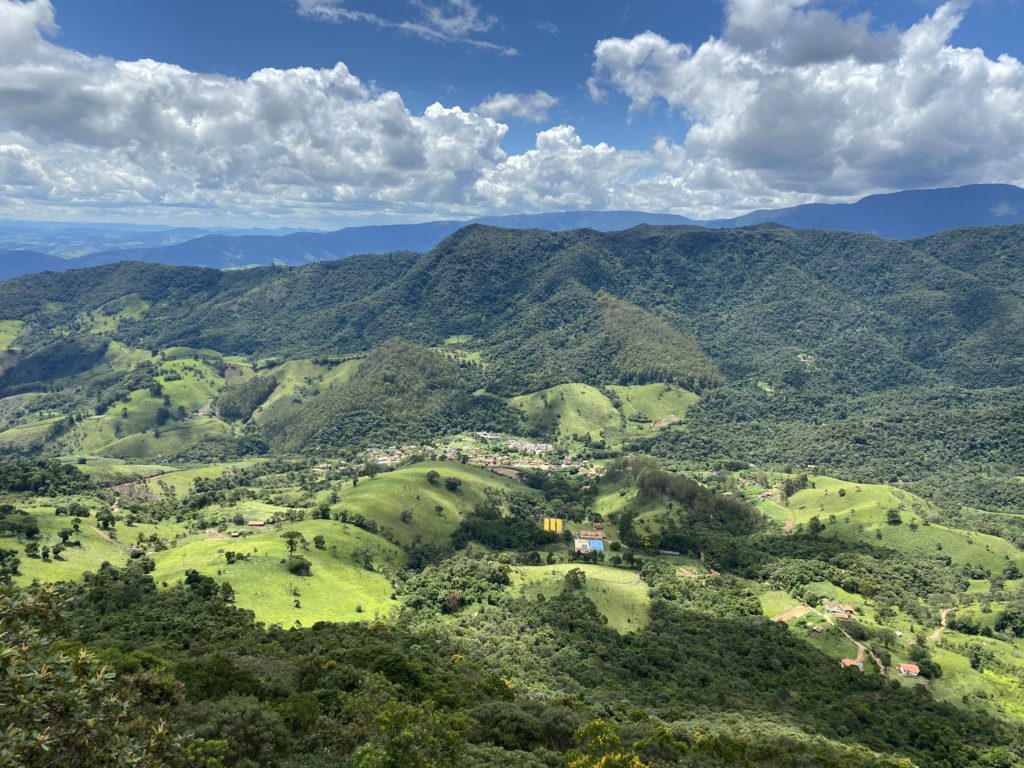 The surrounding environment of King Agaricus farm in Brazil.
Harvest of King Agaricus
King Agaricus is cultivated outdoor in severe nature conditions including under the strong sunshine without pesticide.
We can harvest only 8kg as dried mushroom for using the ingredients of supplement, (100 kg as fresh mushroom)  from 1,000 kg of compost.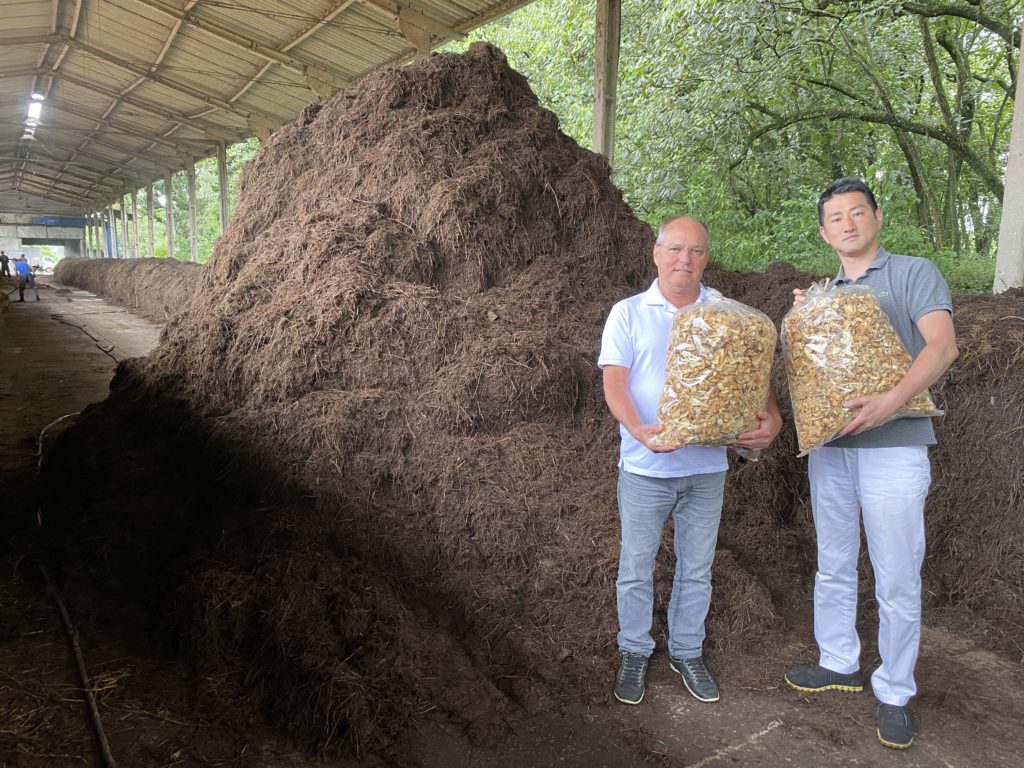 The compost at our back side is 1,000kg. We have 8 kg (4kg X 2) of dried King Agaricus.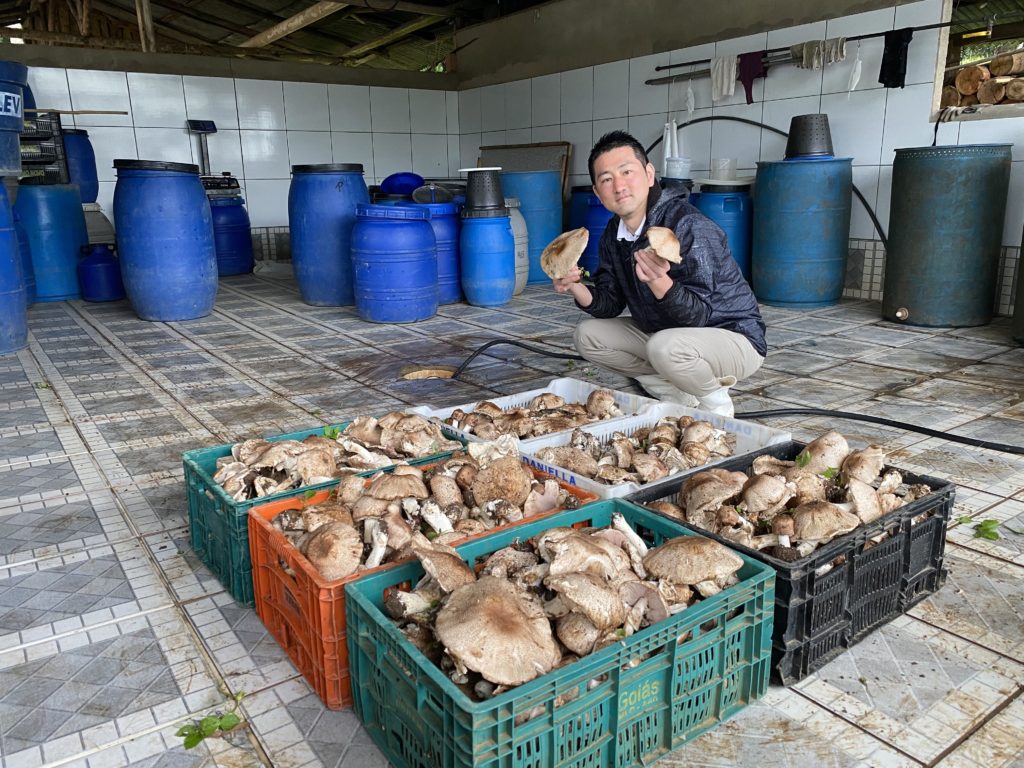 (100kg fresh King Agaricus)
The production cost of King Agaricus is ten times higher than the normal Agaricus cultivated in green house.
Normal Agaricus clutivated in Green house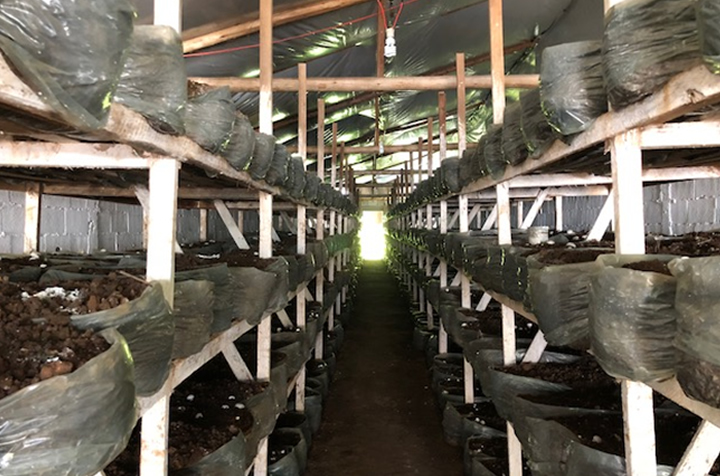 Cultivation of normal Agaricus carried out in a green house under artificial environment blocking sunlight.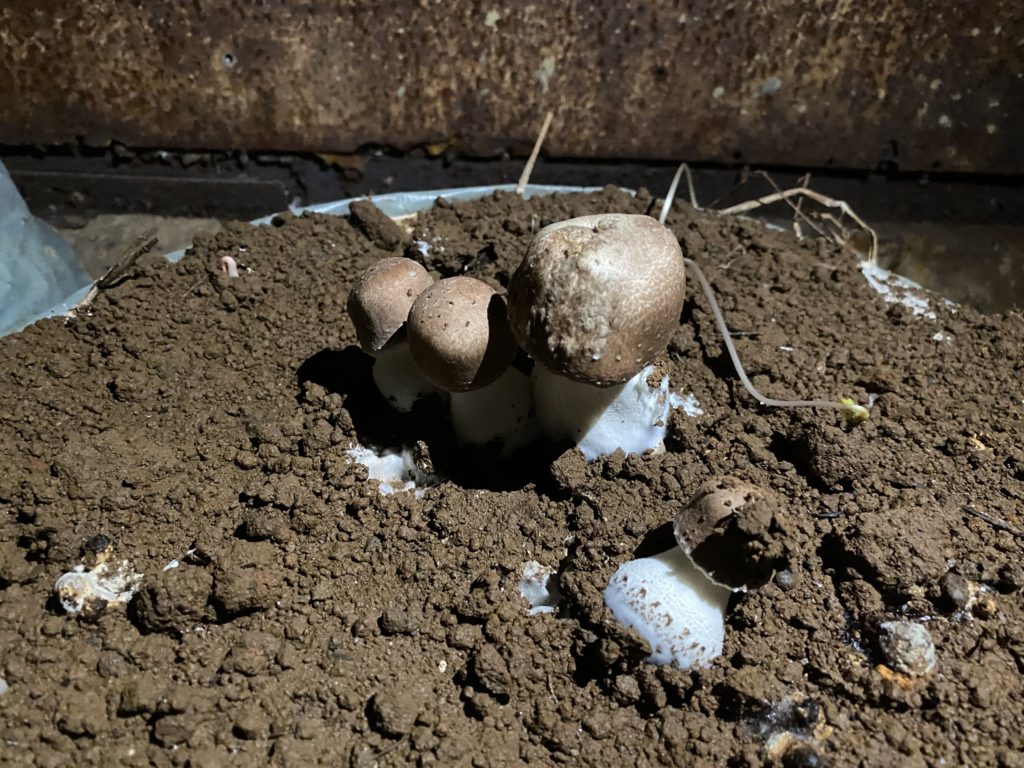 Normal Agaricus is small and the nutrient composition is low.
Comparison King Agaricus VS normal Agaricus
The effects of this Agaricus depends on the production area, cultivation method and the strain.
Beta-glucan and Vitamin D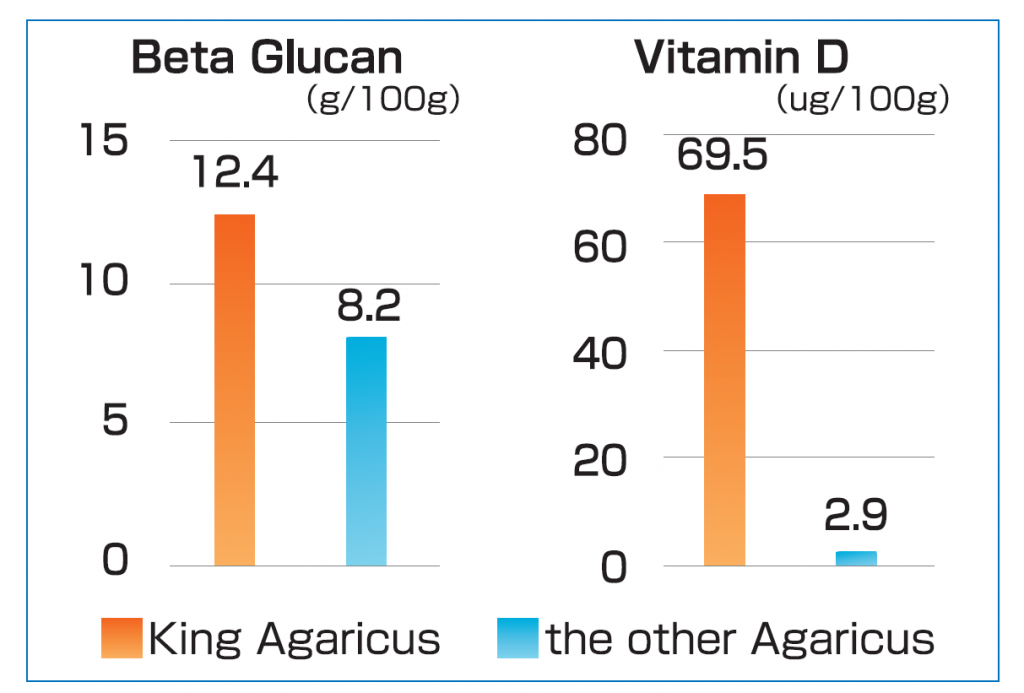 King Agaricus is cultivated outdoor in Brazil and it contains rich nutrition including beta glucan the main component of Agaricus and Vitamin D.
Vitamins and Minerals
Agaricus grows and absorbs plenty of nutrients from the ground, so it is greatly influenced by the cultivated land.
King Agaricus is cultivated in the land's fertile Brazil and it's rich in vitamins and minerals, etc., because it absorbs and grows up the nutrients in the ground.
Also, to grow nutritious Agaricus, the cultivation of King Agaricus is always conducted by opening new farmland, and the farmland once cultivated Agaricus is not used twice.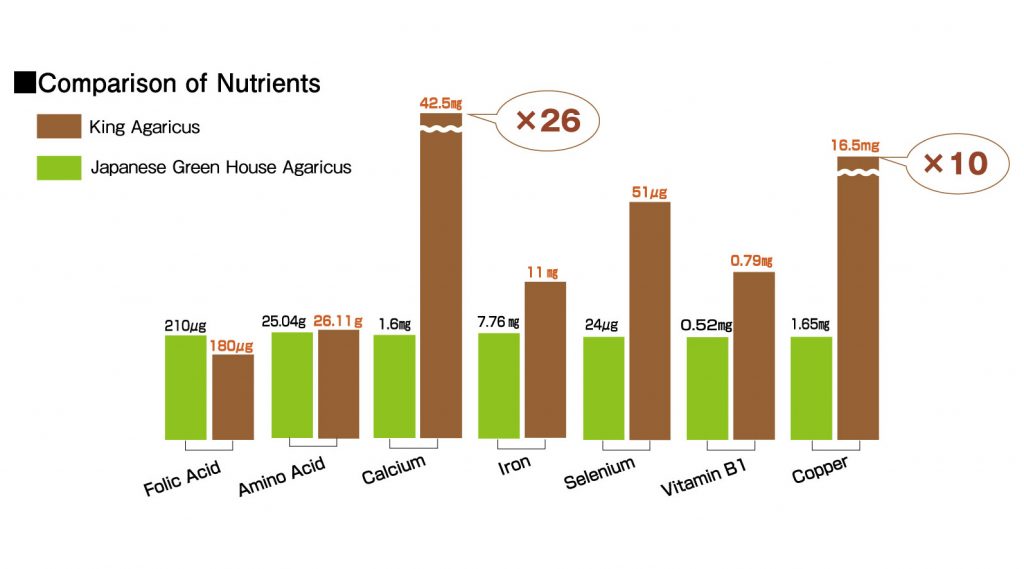 Comparing with our King Agaricus cultivated in Brazil and Japanese Agaricus.
Anti-Oxidant Activity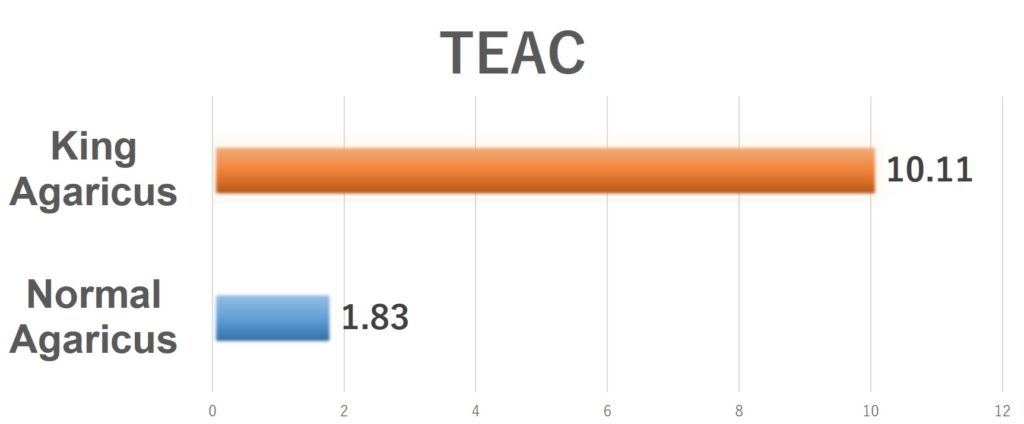 (TEAC=Trolox Equivalent Anti-oxidant Capacity)
The anti-oxidant activity of King Agaricus is 5 times stronger than Japanese indoor Agaricus (JAID).
Reference:【Outdoor-Cultivated Royal Sun Medicinal Mushroom Agaricus brasiliensis KA21 (Agaricomycetes) Reduces Anticancer Medicine Side Effects】IJMM, 22(1):31-43(2020)
Message
King Agaricus is the special Agaricus cultivated outdoor in the great nature of Brazil.
We hope our King Agaricus can help your health!
Please feel free to contact us from the link below.
Contact:www.agaricus.co.jp/contact/