Our new article was published by IJMM, International Journal of Medicinal Mushrooms.
This is our 30th academic paper since 2001.
http://www.dl.begellhouse.com/jp/journals/708ae68d64b17c52,7ea771a61223ff62,4209b64a638d9ae2.html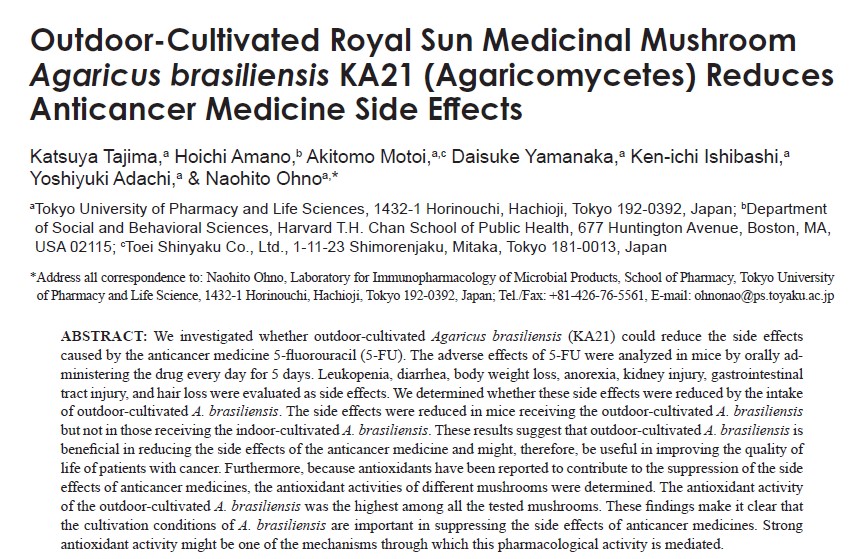 Outdoor-cultivated Agaricus brasiliensis (KA21) reduces anticancer medicine side effects
Katsuya Tajima 1), Hoichi Amano 2), Akitomo Motoi 3), Daisuke Yamanaka 1),
Ken-ichi Ishibashi 1), Yoshiyuki Adachi 1), Naohito Ohno 1)

1)Tokyo U. Pharm. Life Sci,  2)Harvard. T.H. Chan School of Public Health, 3) Toei Shinyaku Co., Ltd
Abstract:
We investigated whether outdoor-cultivated Agaricus brasiliensis (KA21) could reduce the side effects caused by the anticancer medicine, 5-fluorouracil (5-FU). The adverse effects of 5-FU were analyzed in mice by orally administering the drug every day for 5 days. Leucopenia, diarrhea, body weight loss, anorexia, kidney injury, gastrointestinal tract injury, and hair loss were evaluated as the side effects. We determined whether these side effects were reduced by the intake of outdoor-cultivated A. brasiliensis. The side effects were reduced in mice receiving the outdoor-cultivated A. brasiliensis but not in those receiving the indoor-cultivated A. brasiliensis. These results suggest that outdoor-cultivated A. brasiliensis is beneficial in reducing the side effects of the anticancer medicine and might, therefore, be useful in improving the quality of life of cancer patients. Furthermore, as antioxidants have been reported to contribute to the suppression of the side effects of anti-cancer medicines, the antioxidant activities of different mushrooms were determined. The antioxidant activity of the outdoor-cultivated A. brasiliensis was the highest among all the tested mushrooms. These findings make it clear that the cultivation conditions of A. brasiliensis are important in suppressing the side effects of anticancer medicines. Strong antioxidant activity might be one of the mechanisms through which this pharmacological activity is mediated.
If you need the full paper, please feel free to contact us!!
Thank you very much for your interest in our products. Please see t...