Our "King Agaricus100" won the prize  "Product of the Year – Botanicals" by Nutraingredients Asia Awards!!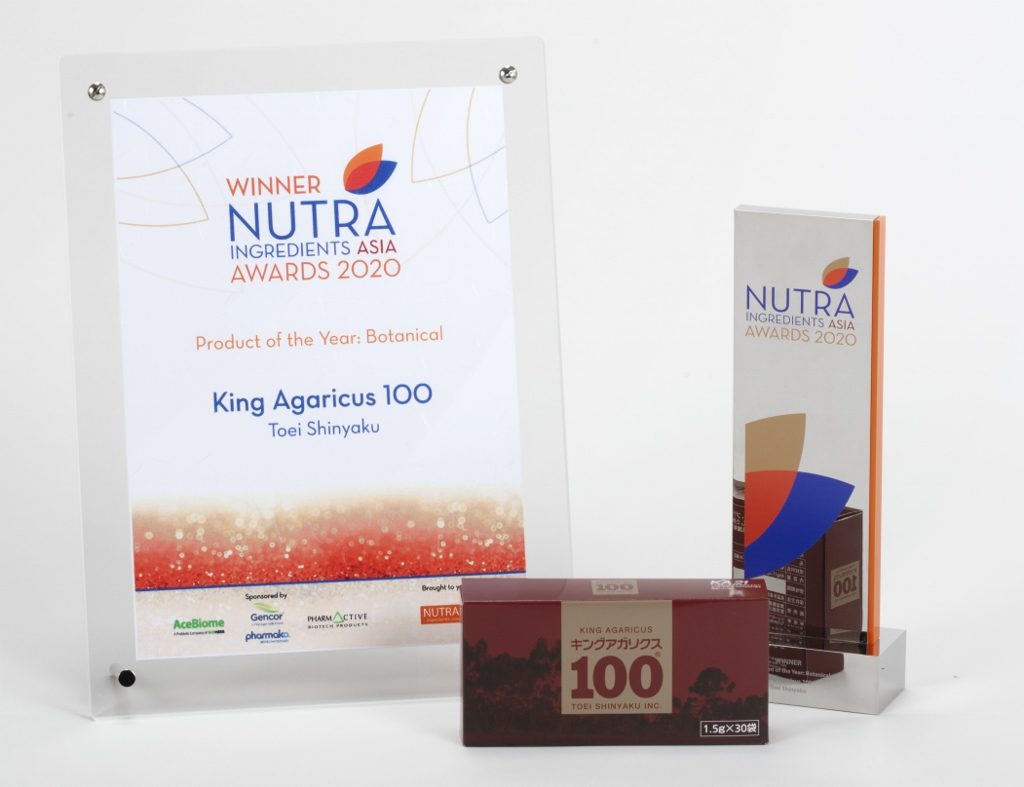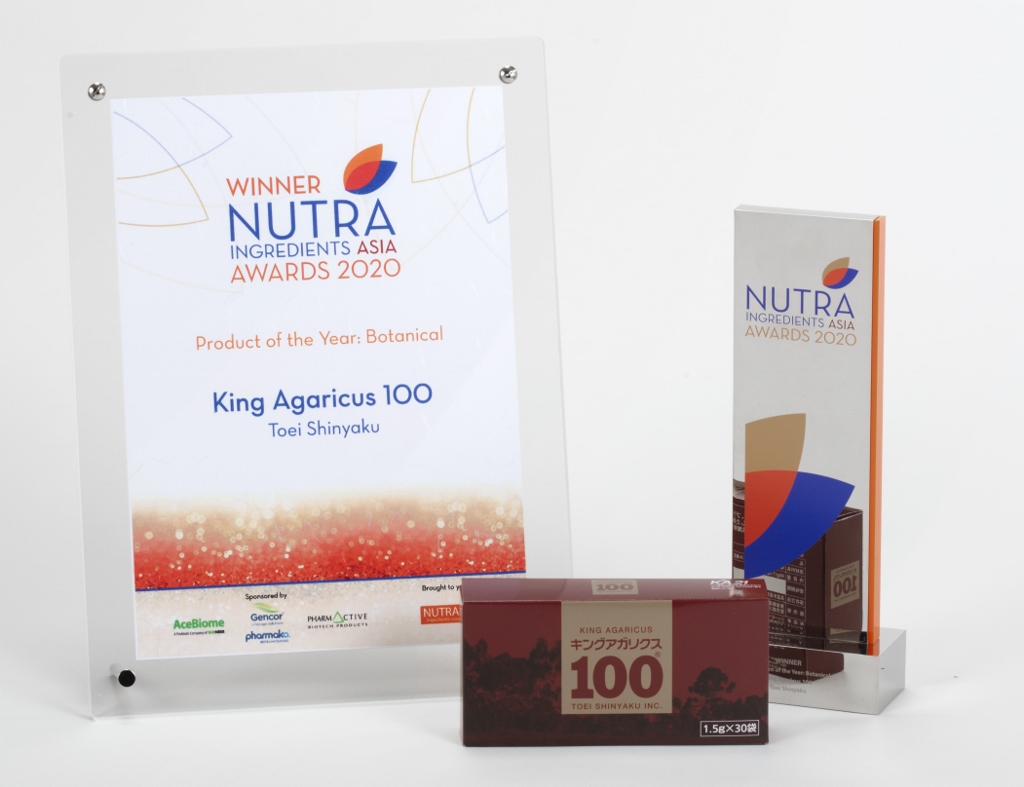 About Nutraingredients Asia Awards
The awards, now in their third year, continue to reward true innovation, long-term market success and cutting-edge research in dietary supplements, functional foods and beverages, and nutrition. It is an industry-wide celebration of success.
https://www.nutraingredientsasia-awards.com/
According to the organizer William Reeds, there were more than 1,500 applications from 23 countries for the Awards.
Even though there are several companies who cultivate Agaricus blazei/brasiliensis in the world, we Toei always focus on strengthening scientific evidences of our King Agaricus because such evidences demonstrate the benefits of our King Agaricus in the simplest way. Such evidences demonstrate lots of potencies of King Agaricus.
The Awards judge said that our 30 scientific evidences and our growing sales based on such evidences are the reasons of choosing us as winner.
We are really proud of the outcome and its background because it exactly corresponds to our way of business.
The Winner and Finalist:
https://www.nutraingredients-asia.com/Article/2020/09/04/NutraIngredients-Asia-Awards-2020-Winners-Revealed
The Winner of "Product of the year – Botanical"
https://dh-design.foleon.com/e-doc/nutraingredients-asia-awards/product-of-the-year-botanical/
Awards Ceremony, online event
Product of The Year – Botanical : 12:25
About King Agaricus 100 : 13:05
The Winner : 13:48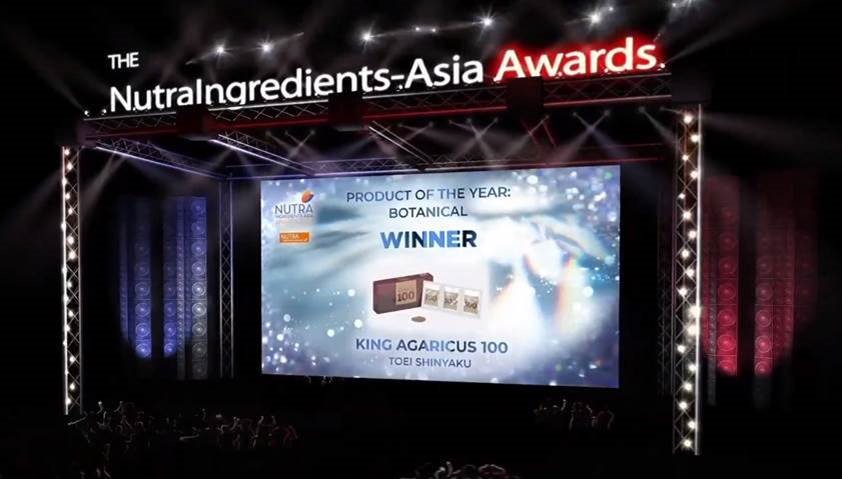 What is "King Agaricus 100"?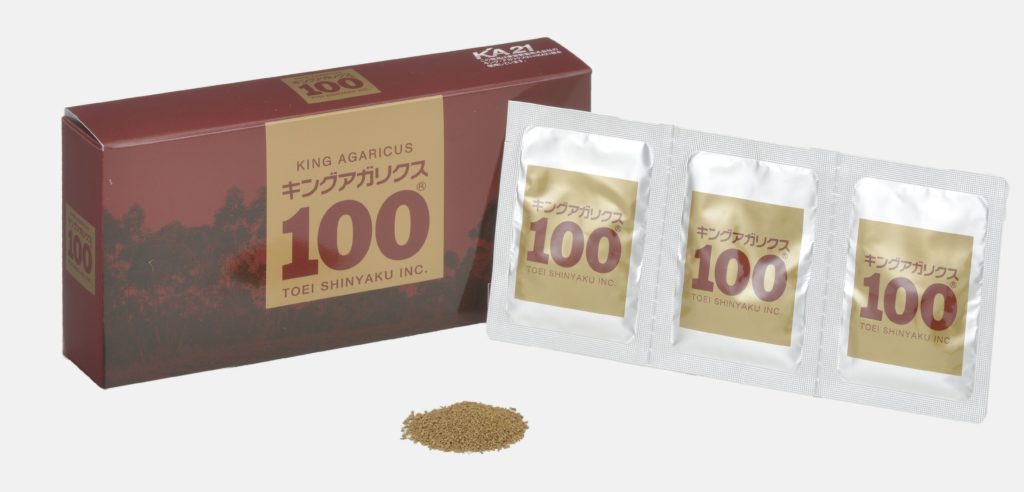 King Agaricus 100 is made from 100% King Agaricus, which is cultivated outdoor in Brazil. This supplement is based on 25 years research and 30 academic papers.
King Agaricus 100 was introduced as below at the event
According to 30 published papers including human trials, this medicinal mushroom product boosts immunity, mitigates side effects of chemotherapy, aids liver and heart health and reduces fatigue

"King Agaricus 100" won the prize  "Product of the Year - Botanica...